Hot stamp marking of leather carseats
When logo Porsche has to be just perfect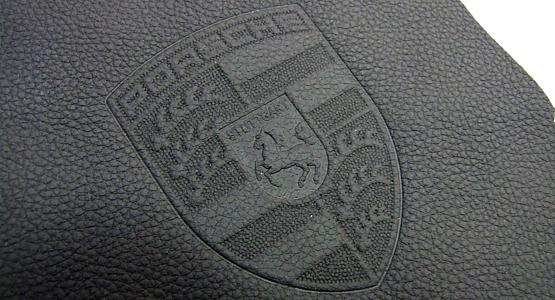 Hot stamping is the best!

Big global producer makes the leather parts for carseats for prestige automotive brands.

It is a sight part of the seat in the car, so everything has to be just excellent. It is more than just a carseat – it is a place where the logo of the brand has to be placed and it is top important to make it the best way. Moreover, this part of the carseat faces quite a strong usage and attrition.
---
Tests, tests and more tests …

According to the requirements for the machine we provided the special modification of our standard machine. Loading and unloading of the leather part is done manually by the operator. The system of loading makes two phases – one is marking while the other one is replacing of the marked part. Hot parts of the machine are covered by the protective shield.

We had to find the best temperature and produce the special stamp for marking of the logo. The heating head is also special. It keeps the temperature steady through more than 1.000 markings per one shift.
---
Do you need anything similar?
We prepare a solution which fits your business.