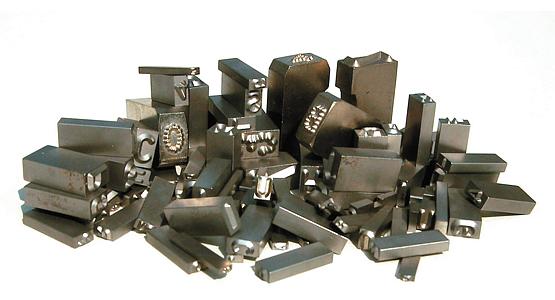 Steel-types

Essential accessory, without which can not mark by impacting or pressing

Single types are made of hardened tool steel (58-60HRC). Signs – numbers or letters are engraved from 1 mm to 10 mm size. We guarantee high quality: precision of dimensions within standard tolerances, long life of perfectly engraved signs.

If you need some specific signs only

Types with the heights of 1.0mm, 1.5mm, 2.0mm, 2.5mm, 3.0mm, 4.0mm and 5.0mm can be ordered individually.
---
When you need complete set

Of course, you can have the types in a plastic box.

Little box
Contains 120 types: 3 times numbers 0 to 9, 2 times alphabets, special signs and 20 blank types.

Big box
Very same content as in the Little Box, plus tweezers, allen key, manual shank and correct typeholder for the selected size of types.
---
Typeholders

Precise construction assures perfect results

They are suitable for marking of flat surfaces by impact (manual or pneumatic), or for marking of cylindric parts, circumferentially by pressing force. Choice of typeholder depends on the machine type and on auxiliary guiding support which are choosen as well. We deliver different sorts of typeholders with one, two, or three-lines, for all sizes of types.

Standard types are inserted into appropriate linear typeholder, which can be used with one of our impact machines or as a manual marking tool with the hand thorn.
---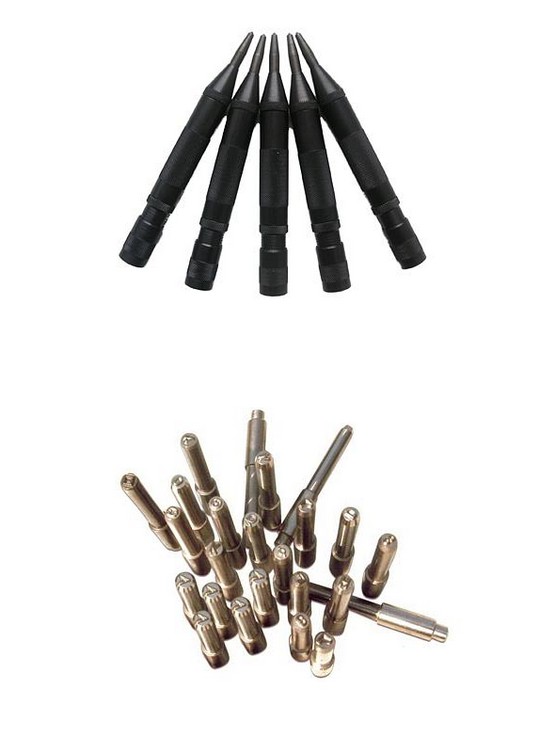 Micromarker

Simple marking for inspection and checking

Micromarker is usually used for fast identification purposes. The impact force is evolved from the inner strike, released by hand. This is a useful, universal light-weight tool, which can be worn in a pocket. The tool has a simple construction and is made of quality steel. Both guarantees long-life.

adjustable power: 5 – 50 kg
there are available different engravings: letters, numbers or symbols – up to size of 2.5 mm
special logos or symbols, based on demands by drawings, can be made out within 3.0 mm size
we deliver micromarker as a simple hand punch: inserted pin with sharp tip can be swapped by any other pin with engraved signs.

When you need just new pin
---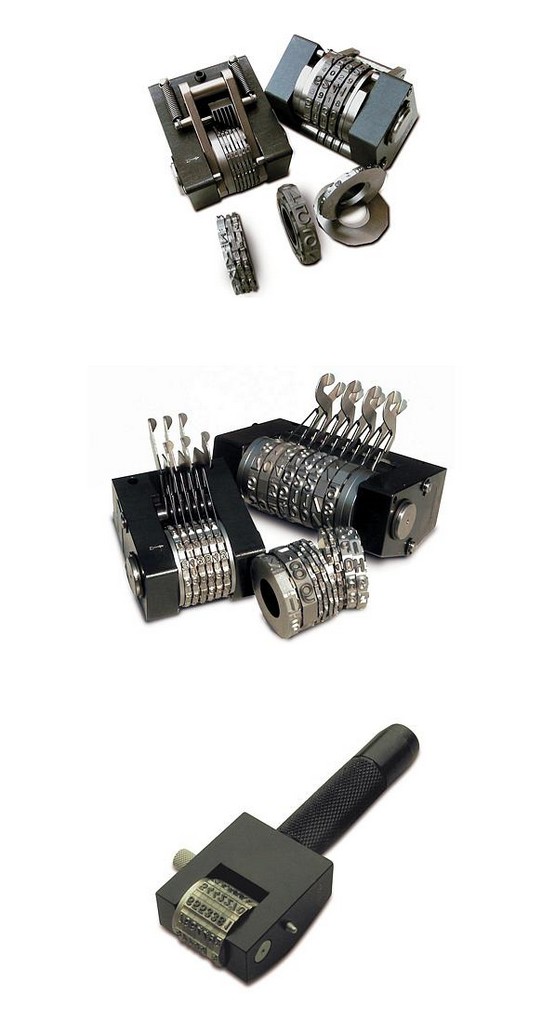 Numbering heads

Marking of serial numbers 

MB2 – automatic numbering head 

Marking of serial numbers (incrementally increased) on each product can become an easy operation!

Made using the latest production methods, the automatic numbering heads mark sequential numbers and can supplied to index after each stroke or after every 2nd, 3rd, 4th, or 5th strokes (not changeable).
The character sizes available are: 1mm, 1.5mm, 2mm, 2.5mm, 3mm, 4mm, 5mm, 6mm, 8mm and 10 mm with standard, semi-narrow and narrow styles. Both letters and numbers can be used.
The family of MB2 numbering heads contains more than 200 varieties.

MB14 – manual numbering head 

Numbering head MB14 can be set up from any number of wheels and all of them are manually set into wanted position. It is manual version of MB2.

The wheels with character sizes up to 5mm height have 14 divisions. For example, you could have the numbers 0-9 as well as 4 additional characters (either letters or numbers) on each wheel.
The alphabet is normally divided A-M and N-Z, or you can choose any combination of letters and numbers you want.

MB5 – small hand numbering head

Numbering head MB5 is designed for manual use. It allows you to easy and fast change marked string, compact dimensions, portable tool to be always in your pocket.

Set up the wheels manually and fix the position by the pin.
You can use manual arbor to use the head as a manual tool or machine arbor to connect with impact machine.
SAs standard it is possible to produce this head with max 15 wheels in 3 mm height of characters.

Ask us about possibility to produce special numbering head according to your needs.
---
Hand stamps

Hammer is needed 

Hand stamps are delivered as a set of A-Z or 0-9 in standard height 1 mm – 12 mm. They are produced from high-quality steel and they are hardened to 58-62 HRC, engraving standard DIN1451.

We are able to deliver also hand stamp with a logo or special symbol.
---
Do you need anything similar?
We prepare a solution which fits your business.