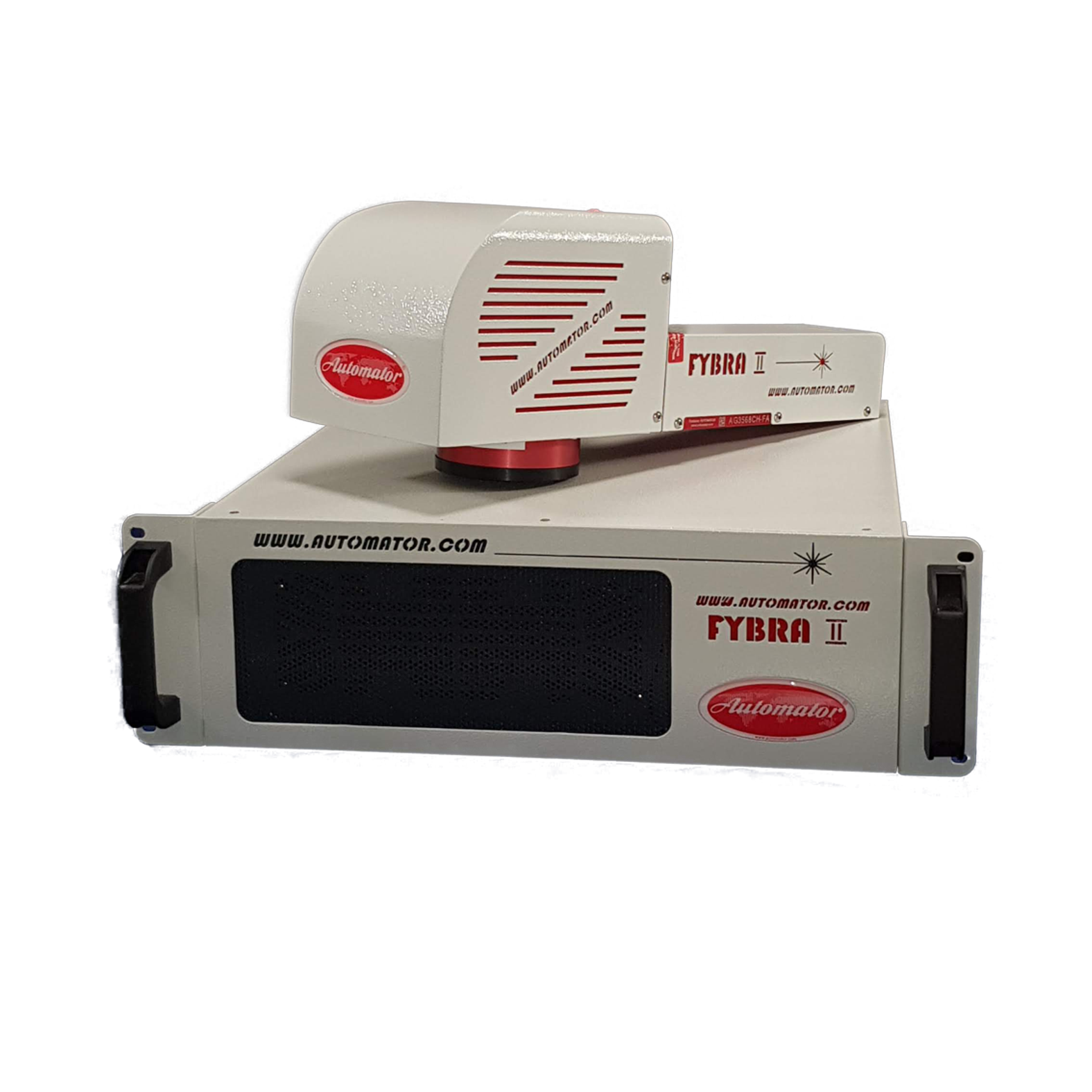 Fybra II

New generation fiber laser for engraving and marking.

The FYBRA II laser source consists of a diode array that can generate a high-power beam. The laser consists of two modules: the source and the control electronics are connected to the laser head by an optical fiber. The fiber laser beam is led by an optical fiber from a source (socket module with control electronics) to the laser head. The galvanometric assembly and optics are located in the deflection head block and form the so-called laser head. This laser can be integrated into a production line or a single-purpose machine.

We recommend this model for use in very busy or continuous operations. It is resistant to various adverse effects, such as vibration and dusty environments.
---
How this laser work

Thanks to the properties of the active optical fiber, the laser beam from the source is significantly amplified, which increases its quality and energy while maintaining the size of its diameter. Therefore, it is possible to achieve high-contrast laser marking and laser engraving on metals and their alloys or plastics.

The FYBRA II model is controlled by its own EuGenius® application program, which is supplied with the laser. There are many parameters and options of control for user in a clear graphical interface, settings related to communication and control of additional devices. The laser can be connected to external devices via RS-232 serial connection, Ethernet communication protocols (TCP / IP or Profinet).

Fybra II provides its users significant freedom to implement the system in the 4.0 industry.

Laser FYBRA is recommended for marking of the following materials:
Anodized metals, burnished, black and painted surfaces, ceramics, plastics, polycarbonate, silicon, ebony.
---
Laser beam source
Active fiber
Wavelength
1.050 nm up to 1.090 nm

Output power
21W, 31W and 52W
Input power
< 300W

Dimensions of laser head
400x335x175mm

Weight of laser
< 19,5 kg

Cooling
air

Energy consumption
< 1.5 kW
IP Certificate of cover
IP30 (head IP60)

Marking field
60x60mm, 110x110mm, 155x155mm, 320x320mm

Diameter of laser beam
6 mm (before lens)

MTBF
125.000 hours
---
Need something else?
There is another solution for you